These stories are short essays on my stay with the Dong people from 2020 to 2022. I travelled there to learn about their craftsmanship. I wanted to learn how to knot fishing nets. Little did I know what it would lead to. Each essay portrays a situation that gave me an essential insight for A Way of Wearing. The Dong are an ethnic minority living in China's southern Guangxi province. The environment is known for its lush beauty: green fields where they grow their primary crop, rice, and large ponds where they breed fish. They grow cotton, which they weave into cloth. These stories are a fragment of my constant harvesting, testing, and creation of narratives.


I flew from Shanghai to Guilin at 6am on the 22nd November, 2020. Leaving this turbulent city behind, I spent ten hours on planes, trains and buses. I arrived at the closest train station to Dong village.


The first time I had visited the village was in the August of that year. I was renting a room in Yang's house. Yang has a convenience store that she runs every day. It was only on one of the last days of my stay that I saw her sitting in her shop, making fishing nets, a craft I longed to know more about. She can only do this handwork after completing her daily household duties. She makes fishing nets in three different sizesB. The biggest fishing net, about 70 cm in diameter, takes her around fifteen days to finish. I noticed the quiet and steady pace at which she wor- ked. I, on the other hand, was in a rush, and forgot to ask for her phone number before I left.
— Yang is making her own fishnet
Back in Amsterdam, the encounter with Yang and her fishing nets became my favourite topic of conver- sation. Thinking of her big-toothed smile would light up my heart. I managed to get her number, and we would app regularly in Mandarin. At that time, I did not plan to engage with Yang so much, but I was overwhelmed with an immediate affection, and a curiosity about her life and her craft. I couldn't wait to get back and see her again. Finally, that November, I returned.
---
Threshold / 门槛
Yang's convenience store is situated on the ground floor of her house. Upon entering, I set my backpack on a wooden table and looked around the place again. Its ceiling, walls and floor all have wood-panelling and are painted with varnish. The straw rain cape was still on the wall as a decoration. Yang herself was busy selling the typical souvenirs of her village to a group of tourists. She knew I'd be arriving that day, but when she looked at me, there was still a slight surprise in her eyes. She had banknotes and coins in her hand, and gestured to me: "Wait, I am still working."

I waited, my mind wandering. Her house has two open doors. In China, the door, with its threshold, is the most significant place in a home, as it represents the crossing from one life to another: from public to private, and from community to family. It's normal in this village, and in both big and small cities in China, that the outside door, the business door, like Yang's, only closes when the owners go to sleep.


Both the first time I visited, as well as this time, the door had opened a way for new relationships.


Yang turned her gaze to me. We smiled, walked towards each other, and hugged. Then she returned to the group of tourists to say goodbye before they left.
---
Solar Terms / 节气

The day I arrived at Yang's house, 22nd November 2019, was the Xiaoxue, 小雪.

The villagers live by solar terms. The traditional Asian calendar divides a year into twenty four solar terms, rather than just four seasons. This refined schedule was developed in response to the agricultural environment and its natural rhythms and cycles of growing and harvesting. Xiaoxue, literally translated to Little Snow, is the twentieth solar term. In the Gregorian calendar, it usually begins around 22nd November and ends around 7th December.


Once the visitors had left, the shop was quiet. Yang had already eaten dinner at a friend's house earlier that evening. While telling me that I'd arrived too late for dinner, she took a plastic bag with glutinous rice and a few pieces of pickled duck from the kitchen for me. I sat at the dinner table eating from the plastic bag with my hands. Yang sat across from me, busy with a new fishing net.
I hadn't wanted to eat that whole day because I wanted to have food from Yang. Not from a pre- sumption that she would cook for me, but out of a longing to sneak into the kitchen to find what she had left there. After the meal, she walked with me to the third floor, to my room. In August I had paid 130 yuan (16,75 euro). Now, we didn't speak about the price of my stay.


In Dong village, during Xiaoxue, they celebrate the festival of Chi Dong, which literally translates as Eating the Winter. This is the five-day festival of Dong or Winter. It's the custom that villagers visit neighbours and take part in sharing meals. On each day of the festival, the members of a specific family prepare the food and host the meal. Over the days to come, I would accompany Yang or her husband to many families' breakfasts, lunches and dinners.

The typical Dong dishes consist of what we call four pillars: glutinous rice, sour pickled duck, hot pepper, and rice wine.


The next morning, I woke up at nine o'clock. Yang's husband was already waiting for me. I never learned his name, I just addressed him as uncle. He told me to hurry up: 'The meal is getting cold, they're waiting for us.'


It is expected that a gift is brought to the family that is serving the meal. This is considered good manners, or proper etiquette.


I followed uncle into the house where we were to eat breakfast. 'Hello, thank you for waiting,' I greeted everyone with a formal bow. Uncle had brought them a big box of milk. He added it to the pile of gifts from the other guests. All gifts were kitchen goods. There were herbs and dried food, rice wine and cooking oil, even cigarettes. I also saw boxes of ceramic bowls and cups, dozens of soda drinks and boxes of snacks.


A gift economy or gift culture is a mode of exchange where valuables are not traded or sold, but rather given without an explicit agreement for immediate or future rewards. Gifts are actually given as a symbol of exchange, but not directly in an explicit exchange of goods or services for money. This contrasts with a barter economy or a market economy, where goods and services are primarily explicitly exchanged for a certain value received.


Gift economies are said to build communities, while a market economy is a corrosive acid to those rela- tionships.



---
OUTSIDER / 局外人

All the women gathered at one table. The men were sitting at the other tables, because the men would start drinking rice wine early. There was also a young boy sitting with his mother at our table.
At our table, I was a total stranger − I was the only one from outside of the village. I felt my presence was an invasion, even as we all treated each other courteously. There were moments of confusion and disconnection between me and them: they welcomed me with their hospitality, but I still entered this space as an observer, I still intervened as an outsider who had travelled here from far away. I thanked them after the meal. I greeted a rather tipsy uncle before retur- ning to Yang's house.
— The son came back from the city and preparing food in the kitchen



— The breakfast is almost ready
— Sat in grandma's room, we were looking at the jacket she made for her daughter.
The next day, I went with Yang to the home of another family to eat the second meal of the festival. We entered a three-storey house, the oldest wooden house in the village. Everybody was still at work in the kitchen. I offered to help, but they thanked me and refused.
In the village, most women have the same family name. According to age and the generational position in the family, they would call each other
sister
,
aunt
,
mother
, or
grandma
. The eldest person from this family was called Yang, too. She was seventy years old, and I called her
grandma
.
Grandma
wore a padded cotton jacket which she had made herself. It had been dyed indigo. She had been wearing it for twenty years, and the color was still a dark blue.
— Grandma, the owner of the padded jacket.

— Two kinds of indigo-dyes color has changed, cotton-padded is thinner and uneven. The hand-stitching remains.
— The lining is worn out and mended with new indigo-dyes linen by grandma.

I could have asked Yang to teach me how to make fishing nets in exchange for a fee. But such a straightforward arrangement didn't seem to fit our relationship. Instead, Yang and I made an agreement: I would help her with her work and chores, and in exchange she would teach me. One of the tasks was picking tea seeds in the mountains until sunset. Afterwar- ds we would make dinner and eat, and take a short break with some tea. Then, she would teach me how to make fishing nets.

The life of the villagers is dependent on their environment, their working hands, and their very understanding of both. November and December are the months in which to pick tea seeds (camellia sinensis) in the mountains. The traditional technique for making tea seed oil is disappearing for the most mundane reason: minimizing production time to generate maximum profit.


When we went to the mountain, I saw neat rows of tea trees covering the hills. Yang's trees were well-cared for, while some of the other plots had weeds.


After flowering, tea trees bear fruits. The ripe fruits leave brown seeds amid fallen leaves that cover the ground. Yang tied a bamboo basket onto my waist and turned it to my back-right side. "The plumper the better", she said, teaching me how to choose seeds from the ground.


Squatting on one of the narrow paths, moving forward step-by-step, my eyes were looking, my hands were searching. Working with repetitive movement, my knees, back, legs and neck were getting heavy, and even started aching. It was not easy at all. I watched Yang, who made it look easy. She made her way smoothly, accurately, steadily and efficiently.


As I worked, I remembered the day that I was confi- dent enough to say I was good at handwork. It came only after a lot of practice with a needle and thread, and with dedication.


After I'd been picking Yang's seeds for a while, there was a moment where my brain stopped running, neither thinking nor planning anymore. I remembered that last time I had this state of connection with myself: I was working with my hands until I lost track of time.

While working, I heard Yang murmur to herself, "If you don't bother nature, nature doesn't bother you. If you don't talk to nature, nature doesn't talk to you."


We had two bags of sticky rice and corn for a late lunch at around two o'clock. "What you are doing now, my own children do not do," Yang said.


Yang said her daughter and son had almost never come up to the mountains to work. It had happened only once, when her son had wanted to drop out of school. Her husband brought him up here to help out with the picking. After the day of work, her son changed his mind and decided that he would conti- nue to study.


Yang and I worked in the field for three days. After I left, she worked four more days. At home I calculated the work I'd done for her. I picked approximately 4 kg of tea seeds a day. One kilo of tea seeds sells for about 18 yuan (2,25 euro). That meant that my three days of work had earned her 216 yuan (27 euro).


It takes 100 kg of tea seeds to produce 13 kg of oil. Yang's family needed to produce 20 kg of tea oil annually, to sell for her family.


While working, Yang told me about the environ- ment, the earth, the trees, and how to care for them. She held a long view: after she would be gone, she knew they would be there for the next generation to tend to. Those days picking seeds is when our friendship started to take root.


— Yang, after work.


— Tea seeds of the day.
— Yang's mother
— The fishnets she made have a darker color and smoky smell because she makes fire in the kitchen and she works on fishnets next to the fire after dinner.


During the time I spent with Yang making fishing nets together, I looked at the fishing net as neither a beautiful or inspirational object, nor as a commercial product. It was an opportunity to learn more about Yang as a woman with different roles in the family, about other families, about the villagers' work and its challenges, but also about myself.
Not every woman in the village knows how to knot fishing nets. Yang does, so does her mother, and her mother-in-law. The knotting technique connects three pairs of hands, three women, three families. The nets are connected by the making hands, the passing down of skills between mothers and daughters. Composed of countless knots, each knot creates a circle; a thread will become a fishnet. It grows and twists, extends with time along a silent rhythm, like a tree.
---
TREE RINGS / 年轮


"How old are these tea trees now?" I asked.


"They are around forty years old," Yang said


"They've been here since I was twenty one years old, when I married and moved to this village."


There were a few small pines standing among the
tea trees on her land. She said, "They're going to die soon, maybe in two years. Then we will cut them and plant new ones." She added: "Former generations said that pines need to grow thirty five years to become proper trees. I don't know, it's difficult to say."


"Another thirty five to forty years? You'll be quite old." I said.


"Yes, you and my children can take care of them," she laughed.


"Do you sell these trees? How much for each one?" I asked.


"1000 yuan (126 euro) for one forty-year-old pine. They're used to build houses. The ones that are ten years old aren't worth much, they can only be used for making tables or chairs, boxes or tools."
---
KNOTTING A WEB / 织网
During the time I spent with Yang making fishing nets together, I looked at the fishing net as neither a beautiful or inspirational object, nor as a commercial product. It was an opportunity to learn more about Yang as a woman with different roles in the family, about other families, about the villagers' work and its challenges, but also about myself.

Not every woman in the village knows how to knot fishing nets. Yang does, so does her mother, and so does her mother-in-law. The knotting technique connects three pairs of hands, three women, three families. The nets are connected by the making hands, the passing down of skills between mothers and daughters. Composed of countless knots, each knot creates a circle; a thread will become a fishing net.

It grows and twists, extends with time along a silent rhythm, like a tree.

---
A WAY OF LIVING / 生活礼节

I followed Yang everywhere. She'd say hello to eve- ryone she met on the street. Yang was familiar both with and to her surroundings. Sometimes, we just sat in her convenience store and we could hear singing coming out from the neighbour's open door. She said to me that during teatime, there were always spontaneous singing sessions.
Dong people are practical, as they need to find ways to make a living. They'd talk about money a lot: how much they paid, how much they earned. But when singing and playing music, I'd see a different side of them, more emotional. They'd have a concentrated, faraway look in their eyes, their faces reflecting the feeling of the music and song.
— Dong ladies sing at the tea store

— Grandma and her daughter

There is no written Dong language. Every Dong song is remembered and passed down by listening and oral practice. Lyrics without written words and the passing down of songs are knowledge-in-practice. Like oral storytellers, the villagers are the guardians of the songs.
---
SEPERATION / 分离

Before I left, Yang and I embraced for a photo, as a keepsake. Now, the photo I have in the palm of my hands reminds me of her, the warmth of womanhood, of mothers and daughters. I think of any ordinary Chinese family, raising children and then sending them away. I think of my family.


My first life-changing event occurred when I was four months old: my parents were forced to leave their house. Along with leaving the village, they left everything behindN. New life began upon our arrival in Guangdong, which, in the nineties, was a southern economic development province. My parents only spoke their own dialect, but not the local language, Cantonese. At that period in southern China, people from the north were regarded as migrant workers and as second-class citizens. They could not become urban residents and their children could not go to school in the city.



I don't have any images of these stories, but still it is impossible to forget. I try to imagine but I cannot comprehend my parents' panics, fears, aspirations, and wishes for a better life.

I heard we were constantly moving from one town to the next because we had to live right next to the construction sites where my father was one of the laborers. When I started to go to kindergarten, we settled down in a small apartment for five years.


We moved three more times before my parents bought an apartment. At this time, I was twelve years old, and they sent me to a boarding school in another city.


They decided to let me go to university in northern China, and I left them when I turned eighteen. They agreed that I could leave China when I was twenty three years old.


Now I am here, in Amsterdam. I go home more often now.

— View on our way to Yang's tea seed field.
— Window view from Yang's mother in law.
— Yang sent us away, we arrived in Guiyang, Guizhou.



When I left, Yang was waving a goodbye-hand to me. This is a gesture that I've seen from my parents and my grandparents and it means:
'You can, and you should go away now.
---
Remembering Something BY Tying a Knot / 结绳记事
— Knot on a rope, a display from the museum(1).



After I left Dong village, I travelled to Suojia Long- horn Miao
[1]
village, 梭戛长角苗, around 620 kilo- metres away from Dong village. In comparison, this is completely hidden and isolated. At the main entrance of the village is an elementary school, with an ecomuseum
[2]
just around its corner. When I entered the museum at two o'clock, the janitor told me that I was the first visitor of the day.
In Suojia Ecomuseum
[3]
, one of the exhibitions showed a straw rope tied with many knots. Chinese people originally used strings to indicate location: the string represented a river, and knots were used to indicate important locations along the water's length.
Strings were widely used as memory-aid devices in a wide variety of colors, and sometimes several hun- dred knots were all tied in different ways at different heights to record dates, statistics, accounts, and even to represent, in abstract form, key episodes from traditional folk stories and poetry.
Strings were widely used as a memory-aid device with a wide variety of colors, and sometimes several hundred knots were all tied in different ways at different heights to record dates, statistics, accounts, and even to represent, in abstract form, key episodes from traditional folk stories and poetry.
It is said that the earliest memorization was by knotting, or the knotting memo. Imagine that a knot might be the memory of events: major earthquakes, solar eclipses, falling stars, or a landslide occurring three million years ago. The survivor was shocked, picked up the rope, and tied a knot carefully. That knot is an event that cannot be forgotten. That knot is history.
It is difficult for modern people to imagine how knotting can remember. Nowadays, we use
efficient electronic devices as recording tools or communication devices. Google Calendar and other apps offer us customisation, flexibility and precision. When I glance at mine, I find my day divided into many squares. Each grid represents thirty minutes of my time, of my life. It can be divided into even smaller frames, down to ten-minute slots, densely packed with all kinds of activities. It all points to efficiency: every grid must be filled, or else.
When I look at my tiny grids with notes, I wonder how long ago early humans used the knotting method to record and plan. How many knots would be made each day? How would the intricate content of each event be distinguished from the others?

[1] Long-horn Miao refers to the Miao nationality of Suojia, because women of this Miao branch use a wooden long horn and the hair of their deceased ancestors to form hairpins with black hemp yarn.

[2] Ecomuseum is a French concept. It embraces long-term working models for preservation and understanding of ethnic heritage, both tangible and intangible. The communities themselves are involved in the way their heritage is preserved, interpreted, and managed.

[3] Suojia Ecomuseum is a Sino-Norwegian cultural cooperation project, and is the first ecomuseum of China, launched on October 31, 1998. It lies in the remote mountains of Liuzhi, Western Guizhou, bordering Zhijin Country.

---
Talisman / 护身符
The Miao people have a tradition that when a child is born, every family donates one piece of cloth which they cut from their own clothes. The women of the village come together, and from all this gifted fabric they make a coat for the newborn child, literally keeping the child warm and cherished. This coat is called a
Hundred Families Coat
, 百家大衣, symbolising love, protection, or a way to carry the makers with you. While this clothing had a fine quality and functioned as a wearable adornment, it also served as a protective talisman, imbued with blessings of the whole com- munity
.
The word
talisman
is French, via Arabic
tilism
, which in turn can be traced to the ancient Greek
telesma
, meaning "completion, religious rite, payment", ultimately from the verb teleō: "I complete, perform a rite". Objects become
talismans
[1] over time, as we recognize and believe that they hold miraculous pro- perties. They provide particular power, energy, and specific benefits to their possessor.
— Lei and her mother-in-law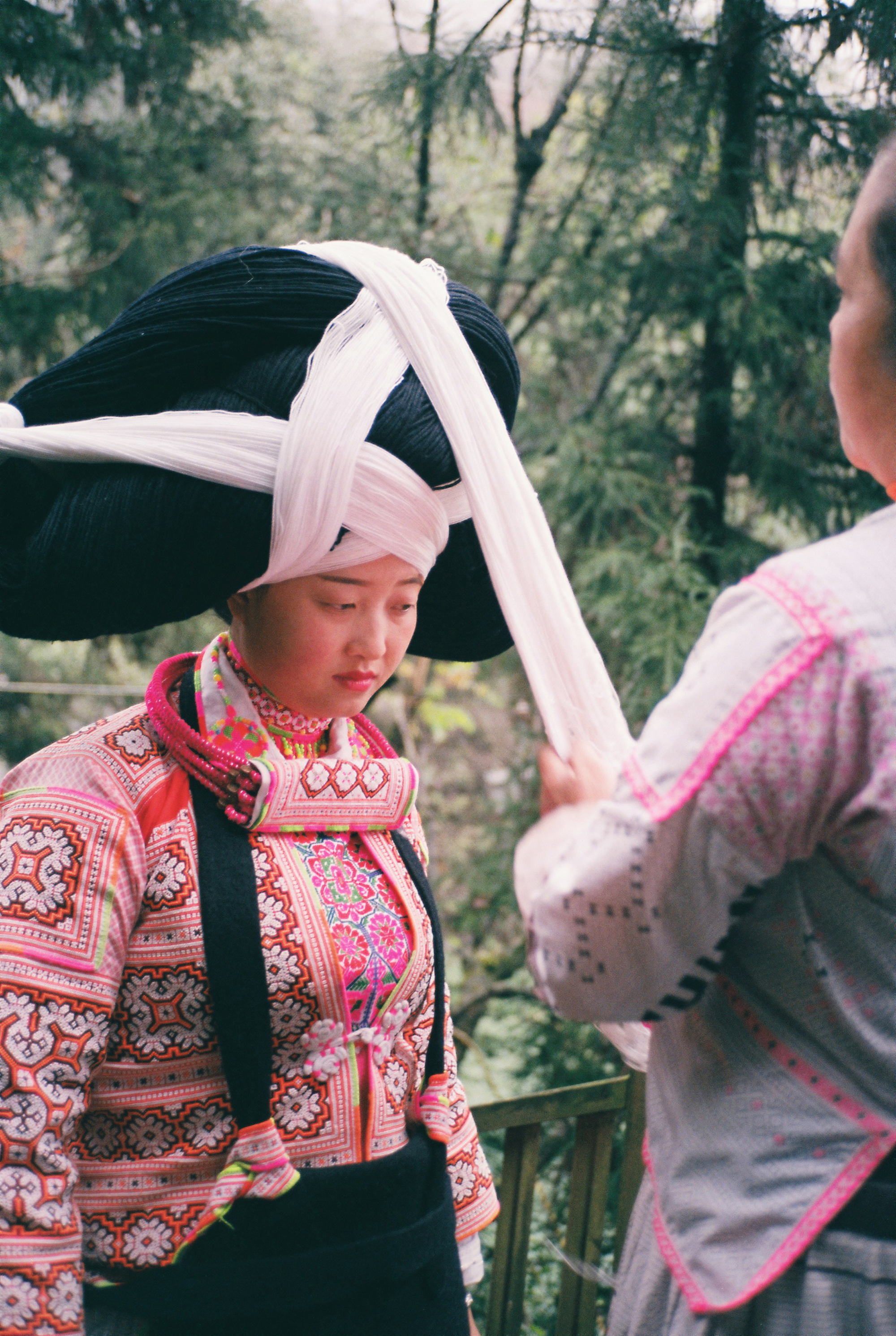 I noticed that I think of objects not as passive, but as having an active role in the world. I like to think they have an energy, a certain strength. When I think of the time and dedication that goes into a beautifully crafted garment, the centuries of artisanship being passed on through this garment, the many stitches by many hands, I think of this garment as a precious gift, a talisman to heal the soul, keep nightmares away, and bestow blessings.
I wondered if we can turn what we now consider products into talismans. Could a coat, over time, become a talisman? Could we use this concept to find harmony between our past and our contemporary needs?
[1] — Source: https://en.wikipedia.org/wiki/Talisman
---
GRANDMA'S JACKET 奶奶的衣服

I was in love with the jackets grandma had made, especially the one she'd been wearing for twenty years. It was made of linen and was cotton-padded. People traditionally had a summer and a winter jacket. Every part of the making process had been done by the community: the seeding of the plants, the harvesting, spinning, weaving, dyeing, beating, padding and sewing. Since much of it depends on the season, it would take at least a year to make this jacket.


I walked past grandma's house every day. She'd usually be home, and we'd chat. I wanted to touch the worn jacket, I felt an almost gravitational pull towards it. In the evenings when I walked back, I would pass the house again to see grandma and the jacket.


I wanted to have it, but I felt awkward asking to buy it. It seemed like such a personal thing. After wearing it for so long, it had grown to be part of her. How could I offer a price for part of her?
After days and days of visits I collected all my courage and asked her. She thought it a bit odd, but she was willing to sell it. She told me that she had to ask her daughter-in-law what to ask for itS. In the end, they sold it to me for 500 yuan (62 euro). The lining was torn, and she told me she'd mend it that evening. I could pick it up the next day.


The next day I arrived early. She folded it, and put it in a plastic bag. I owned the jacket, the jacket was mine. The next day, when I went to visit grandma, she wore a similar and newer version of my padded jacket.


I still feel awkward about the transaction. I hadn't brought her a gift. Instead, I left with a gift: the one she had made and worn for twenty years. Now, when I'm asked where this finely crafted piece comes from, I say: 'I borrowed it from grandma.'




---
A WAY OF WEARING / 一种穿着方式

After contemplating new and old objects, the villages I visited, and the villagers' stories that I heard, I began to reflect upon the value of labor and transac- tions. The work that people did seemed to be out of proportion with what they earned. I started to think of alternative ways of exchanging things, instead of the usual economical transactions.


The padded jacket that I borrowed from / bought from / was gifted by grandma contains a craftswoman's life-story, showcasing her endeavors of the past twenty years spent in a rural and raw environment.

Her way of being, her deep sense of knowledge, found its way into the object. This was not merely a product.


My encounters with people, traditions and crafts, the stories of heritage passed down, of aging, of transition; the echo of them all lead to this project. It's a way of wearing, a way of reinventing, and a way of remembering one's existence over twenty years.